Our first cruise
October 19, 2016
by
LIOR ZOREF
@lior
A few days ago I came back from a wonderful family vacation aboard a new and biggest ship in the world Harmony of the Seas. This was our first cruise, while most people I know never cruised on a big ship. That's why I decided you share with you what happen a ship that big and some insights.
Those who know me, know that I believe in creating experiences (as opposed to purchasing items). So when wife, Ayala, and I heard about the launch of the world's largest ship, we decided that this is a great opportunity for a special experience.
We told our kids we are going to a laid back vacation in Greece. At the airport, just before handing out suitcases, we told to the children there's a small change in the plan and we are flying to Barcelona for a cruise. This is how they looked the moment they received the news.
Harmony of the Seas was launched four months ago. Its length is bigger than the Eiffel tower. There are 18 floors and it can accommodate about 9,000 guests and crew. You can call it a city on water since it has dozens of restaurants, pools, water slides, a cinema, a theater, a basketball court, an ice-skating hall and much more.
But the main attraction lays when you look out. Never ending blue sea, sunrises and sunsets, the sound of the waves and a pleasant breeze. Here are some photos (all of which I took with my cellphone).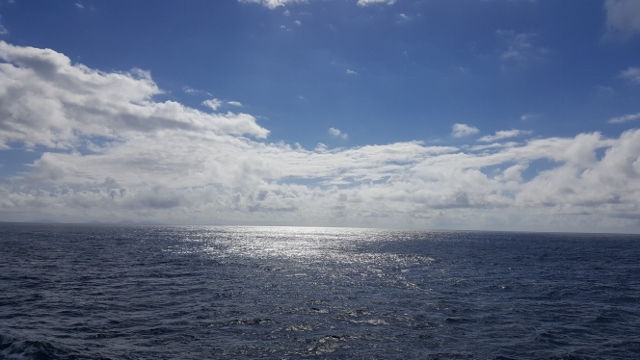 When it comes to my dietician, it is a rather difficult issue. The food of adults had the level of fine restaurants and the kids went wild with endless amount of their favorite foods. Including an ice-cream machine for free use. Our small child, Assaf, used it endlessly…
Combining great food with a stunning view is not a god idea. At least not or a dietician.
After all the food, we had to try to stay in shape. There is a running track surrounding the vessel, one round is about 800 meters. But the main attraction is the view while running…
And there are even motivational signs along the track…
There is a huge gym with all the possible devices. Including a separate room for spinning classes…

Here is the ship's captain, Gus Andersson,. I asked him what unexpected things happened to his crew and himself while sailing. He told me that one old lady had her artificial teeth fall into the toilet by accident and then she flushed the water. The passenger asked if they can find her the teeth. They offered to bring her to a dentist at the nearest port but she insisted. At this point, the chief plumber was called and he managed to detect her teeth in the main sewers (the ship has 240 km long pipeline). They washed their teeth and gave them to her, she put them back into her mouth happily. Yak….
He and his crew shared interesting information about the ship's new technologies. The water and the waste on the ship are fully recycled, including a device that purifies water. The solid waste is being burned and the ship won't leave footprint at the sea.
At the bottom of the ship there is a facility that releases tiny air bubbles to reduce friction with water and the other way around, which makes the ship faster.
There is fast internet connection for everywhere (you need to buy an additional package). It's most useful to talk with the kids when they are walking around the ship alone by using Whatsapp.
A few more details about the ship – it weighs 227 tons, has six generators that provide 92 MW each, it includes special stabilizers, it is capable to make 4100 tons of fresh water a day, has more than 10,000 plants and 52 trees. In the ship there are 22 chefs and 222 cooks. 18,000 pizzas and 32,000 liters of ice-cream are eaten in average in a week.
Every found new things daily and were in awe of the amazing achievement in building such a huge ship as we thought to ourselves: "this is unbelievable".
One day out daughter, Maya, had a persistent cough. Then we discovered that there is a small hospital on board with 3 doctors, 10 hospitalization rooms, an X-ray machine and more.

Almost every day we anchored in a different port and went on a trip. We visited Palma, Marseilles, Naples, Rome and charming seaside towns in La Spezia (the most beautiful – Riomaggiore).
In terms of costs, it is not a cheap holiday but not much more expensive than equivalent hotels vacations. The price is affected by room types and flights to the departing port. The cost per person in simple room (with no window) is around $1,000 for 7 days. The kids for example slept in a windowless room and found out they had a virtual window. It's a screen that shows a live view of what is going on outside. In other words, while sailing you can see the waves outside the ship. That's how it looks…

Here are a few tips for those that wish to join a cruise like that:
* Cruise critic website recently published a ranking of the best sailing in the world – Here is the link.
* It might be cheaper to book directly without a travel agent.
* Some agents are selling packages with two nights before the departure. What it does is increases the cost and not really necessary. We flew in scheduled flight on the same day of the departure with safety range of 5 hours. We took in consideration that id there will be a delay greater than 5 hours, we'll take a 45 minutes' flight from Barcelona to Palma and join the ship the next day. Luckily we made it we no problems. During the cruise we left tips for the crew. In the end we discovered there is an automatic charge of 13 euro per person per day for the service.
* There are also drawbacks in a cruise like that – the ship is loaded and there are times when you feel crowded (there are separate areas for adults that are less dense and mostly quiet). The boat is very stable and we didn't feel nausea, but those who suffer from seasickness may be more sensitive. And of course this is not a cheap holiday.
In conclusion, we had an amazing time and I highly recommend the Harmony of the Seas. Here some pictures of us on the boat and outside of it.